WHO WILL FIGHT FOR JUSTICE FOR YOU?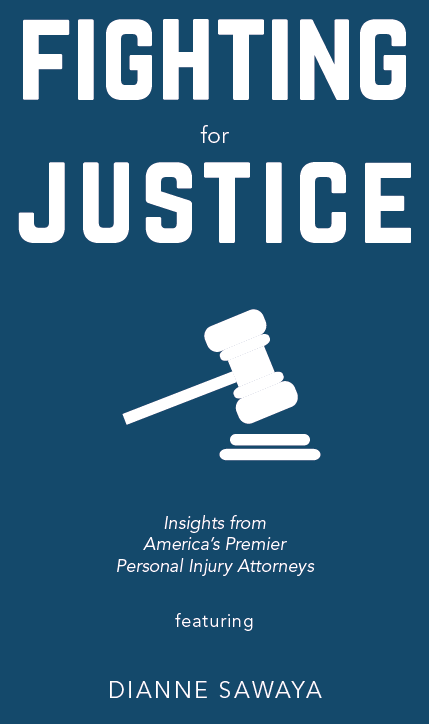 The law can seem impossibly complicated sometimes. Most of us don't know how the law works. Our experience is limited to what we see on TV shows. We don't bother to learn more because this mystery doesn't affect us in our everyday lives…until it does. A car crashes into us. A truck hits a loved one. A product malfunctions and leaves us permanently injured. Then questions arise:
How do I find a lawyer?
How do I know I've chosen the right one?
Do I have a case?
How do I get the medical help we need?
What happens next?
In perhaps the worst moment of our lives, we realize we don't have answers. Or we didn't—until now. Fighting for Justice is a guide written by those who can fight for you against those who harmed you. Their advice will help you to navigate the traumatic, stressful, and absolutely critical period after your accident. Dianne Sawaya is licensed to practice law in Colorado and the District of Columbia – Colorado district courts, U.S. district courts in Colorado and Washington, D.C., and U.S. courts of appeals in Colorado and Washington. She devotes her law practice to victims of car, motorcycle and truck accidents, those injured on the job and those who have been harmed by the negligence or carelessness of others. She has practiced law for more than 30 years and has devoted 25 of those years to achieving personal injury settlements for accident victims. Her ability to achieve results far greater than other personal injury lawyers led to her being offered membership in the highly exclusive national Multi-Million Dollar Advocates Club. Her commitment to providing personal attention and services tailored for each client has made her the most visible female personal injury lawyer in Denver.
Get Your FREE Copy
Stop by our office or we will mail a copy to you!
---
Your Legal Guide to Motorcycle Injury Compensation
Get your free copy of our e-book, Your Legal Guide to Motorcycle Injury Compensation, What Bikers MUST Know About Insurance Claims, Settlements, and Jury Verdicts. 
The only thing worse than being seriously injured in a motorcycle accident is to NOT get the compensation you deserve – or to find out later that you have been taken advantage of by an insurance company.
Insurance claims adjusters KNOW all the tricks in the book. The companies they work for have had years of practice in diminishing, devaluing, and denying motorcycle insurance claims and wrongful death cases.
IN THIS FREE E-BOOK YOU WILL LEARN…
How insurance companies determine the value of your claim
11 questions you should ask before you sign anything
5 strategies that can double your insurance settlement
5 mistakes that can ruin your motorcycle injury claim
How long it will take to settle your motorcycle injury claim
5 questions that insurance adjusters never want you to ask
The 3 biggest factors affecting the value of your claim
5 secrets that adjusters don't want you to know
Fill out this quick form and receive the e-book right now:
DO I HAVE A CASE?
Get Your Free Case Review